Otherside Favorites
Recently released, and already wildly popular CBD products
Family Owned, Family Grown
Otherside Farm is nestled in the beautiful Blue Ridge Mountains just outside of Asheville, North Carolina.  We are raising a family and organically grown hemp. Our values are grounded in sustainable farming practices, being attentive stewards of the land, building community and our soils. We are currently offering high quality products from our latest crop of high CBD hemp.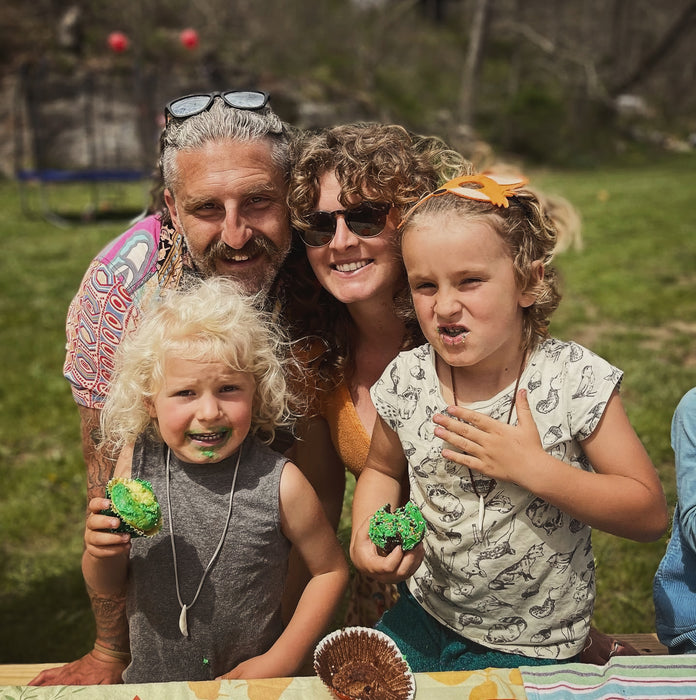 A few kind words
What our customers are saying about Otherside
If you're in WNC and looking for the best local CBD products the region has to offer look no further than Otherside Farm! As a gym owner I couldn't be happier to recommend their recovery products to my members, or literally anyone looking to reduce pain and inflammation. Family owned, quality products, grown and produced right here in Asheville. What more could you want?!
Great product! I have used about 4 different brands of cbd and other side has been the best product yet. I am an athlete and the long term benefits of decreased inflamation is extremely helpful to training recovery. The most notable difference between this product and other brands os how quickly other sides cbd actually works. In my experience noticable effects are felt in less than an hour. I would definitely recommend this product!
We love Otherside Hemp! Quality people create quality product. On our short list of the best hemp farms around. Highly recommended
I have personally had the pleasure of watching Otherside Farm grow baby plants to mature harvestable buds. I watched how everyone worked together fostering this field as they would their family or community. I know this has truly made all the difference in the plants' ability to create a fabulous oil. I have 100% Confidence that Otherside Hemp has our Highest Good in mind when they took the buds to harvest oil for us. It turns out, this is one highly concentered, FULL SPECTRUM, strong oil. I am Not surprised!! I guarantee you will not return to any other CBD product.
With a rotator cuff injury, it means that I am living with a constant dull ache in my arm and shoulder which disturbs my sleep. I have tried anti-inflammatory drugs, physical therapy and steroid injections. I decided I want to avoid future injections, any chronic pain meds and possibly surgery. This is where Otherside Hemp Salve comes in - I have been using it twice a day for only a few weeks and it is relieving the constant pain, allowing me to sleep soundly. Otherside Hemp offers a full range of quality products and excellent customer service.
As part of the 80% of Americans who experiences sleep difficulty, I have tried many over the counter and prescription products. I found the full spectrum, organic, 1000mg oil from Otherside Hemp eases anxiety and provides uninterrupted sleep. It is a safe, non-habit forming, natural product, locally grown in Western NC and produced in small batches to assure high quality. The products have been thoroughly tested and Certificates of Analysis are available on their website. There are many other CBD producers in the marketplace, but I recommend that you research the products and know your grower—you will choose Otherside Hemp!